The smell of Spring is in the air and it's time to get your garden set for the season. But before you can even reach the lawn mower, secateurs or patio furniture, it might be time to delve into storage ideas for sheds first. 
Most likely at the end of summer last year, the shed was packed up with little regard for the year ahead, so now you're faced with garden paraphernalia galore, all covered in cobwebs with little signs of any organisation.
With that in mind, it's time for a good-old sort-out, which starts with storage. From She sheds, to He sheds and all sheds inbetween, getting sorted now, will ensure a stress-free summer that avoids having to precariously stack up old tins of paint next to deflated paddling pools and busted tennis rackets.
Storage ideas for sheds
The humble shed can really sort you out on the storage front, but make sure what you're storing in there isn't too precious. 
Jenny Davis, Head of Marketing at Forest Garden (opens in new tab) says, 'My golden rule when it comes to deciding what products to store in the shed is to ask whether it can be replaced. Tools, gardening equipment and outdoor toys – items already designed to stand up to the elements – are perfect for sheds. But it's important to make sure your shed is watertight.'
'A leaky roof could let water drip into the shed, potentially damaging belongings and allowing mould to flourish. Ensure that the floor and windows are sealed and free from leaks to protect further water damage and condensation.'
'If your shed is dip treated, you will need to treat it yearly with a wood treatment to prevent the timber from rotting. If your shed is pressure treated, there is no need to treat your shed on a yearly basis. Our Forest 4Life Pressure treated sheds have a 25 year guarantee.'
Some garden shed ideas will transform your space so you can accommodate both storage and an area to work, but be realistic about this and don't force yours to do what it can't.
Whatever you need, you can tailor your shed to suit your storage needs as our ideas below prove.
1. Begin with an empty shed
'A haphazardly organised shed filled with tools, compost bags, mowers and other life accumulated clutter can mean that often the quickest of jobs could involve removing half the shed and the cobwebs before you actually find what it is that you're looking for', says Jenny Davis at Forest Garden.
To help turn your shed into an organised haven, start by having a clear out. Firstly pull everything out and sort through what you do and don't need. Check all machinery and tools are in working order, and if you have any old or empty paint cans, dispose of those correctly.
Jenny goes on to say, 'Before you begin organising your shed, choose a dry day and get everything out so you can see what it is that you have and what needs to be recycled or reused. Be realistic – is grandma's mildew filled ottoman really ever going to be used or repurposed? Do you really need 10 blunt spades and a rake with half a handle? It's time to let go of the clutter and really decide what it is that you need from your shed.'
2. Utilise your space with storage bays
Sheds don't often come with any shelving or wall hooks, so begin by measuring up your space, plus what you need to store in it and work out a shelving system pronto! 
Polly Maclennan, Head of Marketing at BIGDUG (opens in new tab) explains, 'Storage bays are a great way of utilising vertical space without taking up vital floor area. Thanks to their multi-purpose use and ability to hold much more weight than standard shelves, you'll have the freedom to store an array of items on them.'
'Plus, they're available in a whole bunch of heights and widths to fit your shed space, including handy corner bays for those awkward nooks! Steel-framed options are typically the perfect cost-effective, long-term option thanks to their hardy material.'
3. Don't forget the small stuff
Make the most of every inch of space with this savvy storage idea. The otherwise wasted underneath surface of the shelf is now utilised to provide a handy space to keep jars of garden or DIY essentials.
Jenny says, 'There will always be plenty of small bits that you never quite know what to do with so factor them into the equation from the outset. Small drawers and even jam jars with their lips screwed onto batons can be perfect for those pesky nails and small items.'
Simply glue the lids of the pots securely to the underside of the shelf and screw the base of the jar in place to create a suspended storage solution. Best to use small jars to keep the weight at a manageable level. Use the shelf as normal, to store tools, books and more.
4. Opt for clear storage boxes
While stackable boxes are great for storing all sorts of bits and bobs in, if you can't see what's inside, you'll easily forget about your belongings.
Penny at BigDug says, 'The ability to be able to see into the boxes that you've stored your bits and pieces in is vital if you want to not only store things away neatly but keep them stored away neatly – we all know the feeling when we've put something away but not sure which box we've put it in… cue pulling everything out in a rage and subsequently left with an absolute mess!'
'Plastic storage boxes are a great way of generally keeping all of your garden paraphernalia and nick-nacks in their categories. Choosing a lidded option will help ensure the items inside stay dust and moisture-free. Those with sturdy lids are also perfect for stacking, giving room for further space.' 
5. Create a system
Don't just chuck things into your shed willy nilly, but think about the things you use most often or what is most needed for the season. Lawnmowers can be stored at the back of your shed throughout the winter, while rakes and garden brooms can be at the front, but come spring, swap these over.
Store sharper items higher, safely out of reach and keep everyday items like gloves and kneelers in crates under a bench like this Moreton potting bench, £320, Garden Trading  (opens in new tab)
6. Reuse and recycle
Before you cast off old items of furniture or left-over wood to the dump, think if they can be used in the shed instead. Old wardrobes, shelving units and bookcases make great storage solutions, or even an old wooden pallet, can be upcycled to house potting equipment and tools. Be mindful to remove any doors from furniture and don't create too many hidey-holes. Have in your mind, if you can't see it, will you remember it's in there?
7. Use a peg rail for tools
An old peg rail is ideal for hanging long garden tools from, so they are off the floor and all together. Always hang rakes upside down so don't get caught up with strings and wires that could be on the floor and are further away from any rising damp. You can hang anything from a peg rail, especially if it has a handle, so it's a very useful thing to fix to the wall.
8. Build a potting bench
As we mentioned, shed's don't tend to come with storage built in, so shelves and benches are definitely a good way to help with keeping a curb on the clutter. Potting benches can be pricey to buy, but if you're a dab hand at DIY, why not make one using left over wood? You can make a fairly simple structure in an afternoon, then why not give it a vibrant lick of paint like the Wood Stain + Protect paint in Bristol Blue, £21.60 for 2.5L, Protek (opens in new tab) to bring a bit of colour to your shed?
9. Utilise the sides of your shed too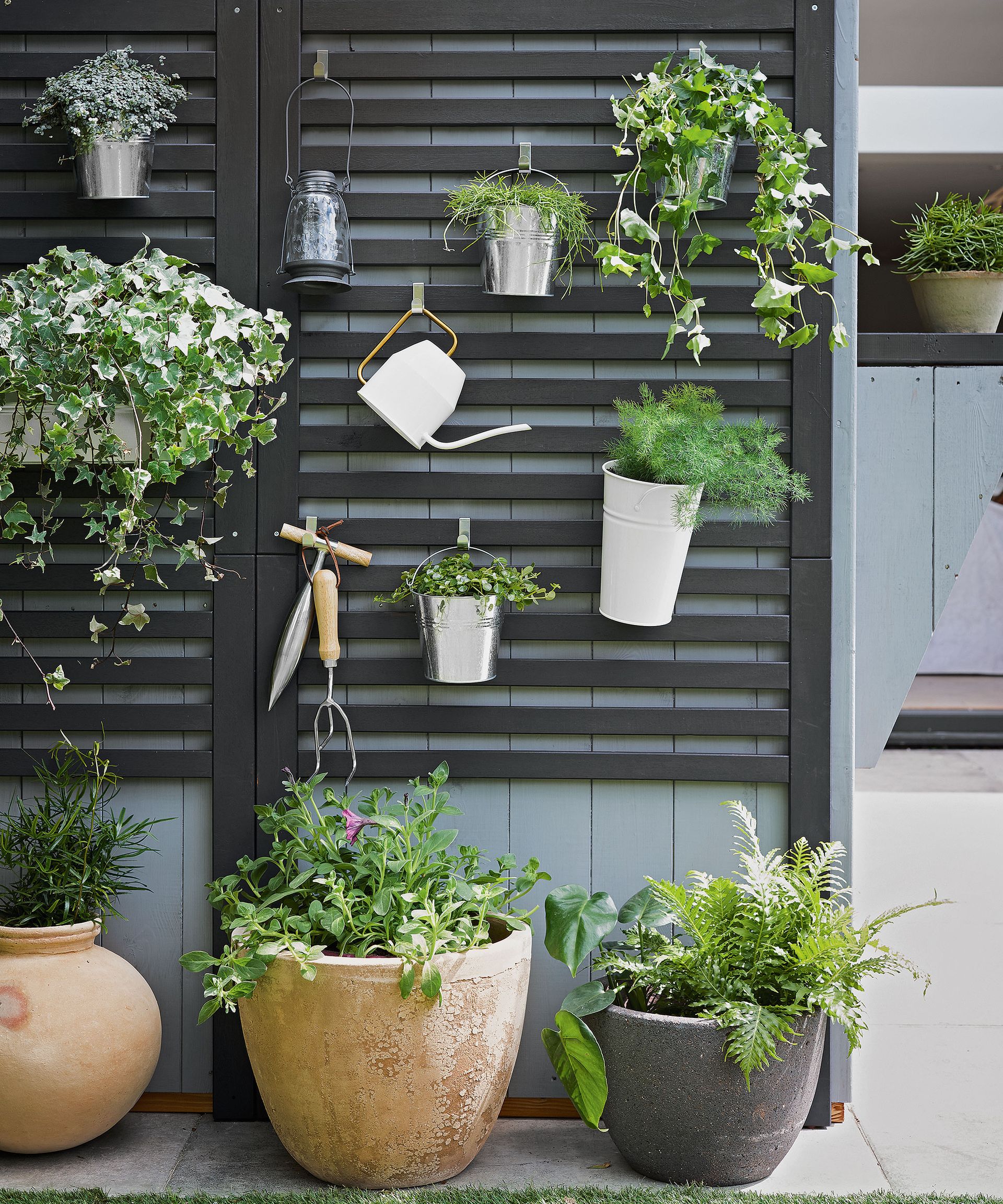 Don't forget to make the most of the outside of your shed too! Here recycled fence panels have been painted, turned on their side and attached to the back of a shed to create a living wall with space to hang tools too. Simple hooks can easily be moved around to accommodate what needs to be stored, without taking up space inside your shed.
10. Use every last inch of space
Chances are you're going to need every last inch of space you can in a shed, as no matter how many clear outs you have, you will always fill it! So make sure you are using all the wall space, right up to the eaves in the ceiling! Shelves are certainly a good way to do this and bespoke storage is even better. If you know you need to store lots of pots in the same size, look at buying (or building) and custom fit shelving system so you don't waste any space.
11. Keep windows clear to see what you are storing
Windows are a good option in a shed, not only to allow the natural light in, so you can easily see what you are looking for, but also so you can see what you are storing from a far too. A quick glance from the house to see if the hammer is on the wall, or a quick peek to check if the 'emergency' chairs are clean before guests pop round, means you won't have to riffle through the whole shed every time you need something.
12. Utilise a pegboard in a potting shed
Create a picturesque potting shed with storage that is practical and pretty in equal measure. An on-trend peg board can provide a stylish solution to use the wall behind a potting table or bench to store tools handy while you work.
The simple design allows you to use every inch of the wall to peg up the items you need to have within reach. Add further storage above with simple kitchen solutions, such as metal rails with S hooks – to hang twines, watering cans and larger tools.
13. Make your own garden twine dispensers
Seek storage solutions that makes working in the garden a little easier. This smart storage idea for the shed is just the thing to keep garden twine handy and easy to use! These DIY gardening twine dispensers are simply stainless steel funnels  wall mounted to keep garden twine handy and easy to work with.
14. Be smart with wall storage
If your shed is on the smaller side, investing in wall storage hooks and shelves will prove invaluable.
'Hooks in particular offer a great space-saving way of organising power cables, paintbrushes and gardening tools, without taking up any floor space' says Vlatka Lake, Marketing Manager at Space Station (opens in new tab). 'If you're looking to hang any heavy equipment, make sure the hooks are sturdy. Galvanised hooks are perfect for heavy equipment such as drills and spades. Fixing hooks high up ensures little ones can't get their hands on any sharp or dangerous objects.'
15. Store on all surfaces to save space
As well as utilising any wall space, make sure you make use of other areas of your shed.
'The back of the door is the ideal space for hanging small tools or wires'  explains Vlatka Lake. 'Try adding some hooks into the back of the door for a space-saving storage solution. You can also make use of the ceiling space too. If your shed ceiling is triangular, secure a wooden beam across and attach hooks. This is a great solution for wires and low-hanging tools.'
16. Fashion a branch coat rack
Cheap, charming and completely practical – a twig coat rack is an ideal storage solution for sheds. Source a hearty branch, keep a look out while out on a woodland walk for fallen branches. Buy two handles to attached the branch securely to the wall, IKEA offer affordable leather handles similar to the ones above.
Line the new coat rack branch with metal S hooks that act as hanging pegs for clothing layers, gardening aprons, accessories and even garden tools. Hang near the door to make it more efficient.
17. Rack up gardening tools
Use a simple rack with hooks to keep all your garden tools mounted together. Use the hooks to grasp the handles of the tools, to keep them elevated and safely stored on the wall. Not only will they be grouped together and therefore easier to find when required, storing all tools upright will keep them safely out of the way to prevent any accidents.
18. Store seed packets in fabric baskets
Make your shed storage stylish with the addition of fabric baskets to store seed packets, colour coded twines and more. They not only add a cheerful touch to the decor they are easier collapsable when not needed, so they make a good solution for small sheds. Plus being fabric you can pop them in the wash if they get dirty.
19. Hang seed packet organiser
Alternatively you can hang your seed packets on lengths of decorative ribbon. Make a hanging seed organiser by tacking strips of ribbon into the walls of your shed, there's no real weight in the packets so a simple nail will be sufficient to secure. Attach the seed packets using wooden pegs or washing line pegs. This savvy storage method allows you to plan your planting, by hanging them per month and in order of importance.
20. Store vertically to make the most of space
Even the smallest of sheds can prove invaluable for storage, when used efficiently. Make the most of all the space on offer by thinking of vertical storage. Use wall-mounted storage baskets secured high above items being stored at a lower level. Choose stacked shelving units to optimise vertical storage space. Elevated shelving allows you to keep items off the floor – avoiding any water damage or risk of attracting pests.
What should you not store in a shed?
The common garden shed appeals to most as extra storage for many household items. But what if those items aren't ideal for shed storage? Could we be unknowingly ruining valuable items?
The shed and garden experts from BillyOh (opens in new tab) say, 'There are two factors you should consider before storing something in your garden shed – temperature and moisture.'
'Extreme temperature can damage a variety of items, and mould and mildew can render a lot of products useless quite quickly.'
Jenny at Forest Garden says, 'Today's sheds are better than ever in terms of security and keeping water out, but whatever you store in there is at the mercy of mice and extreme weather. With fluctuating temperatures and moisture to contend with, sheds shouldn't be used to store paint, family photographs, paperwork and electricals, musical instruments, food, artwork or cardboard.'
Penny at BigDug adds, 'Don't store clothes and bedding, insects are well known to ruin fabrics, think moths! Also Wine. It may sound like a great idea but extreme hot and cold can cause the wine to have a metallic taste.'
How do I maximise my shed storage?
'Organise tools and equipment so they're easy to locate,' says Vicky Silverthorn, Professional Organiser at You Need a Vicky (opens in new tab).  'If you have to tackle a mess, move too much stuff, or it takes too long to find something, then you're more likely to put off doing a job.'
'Buy large garden furniture covers that span over the whole set (individual ones can be fiddly and time-consuming) so they don't have to be stored in your shed.'
Another top tip that Vicky shares is, 'Store garden hung on the wall so you can find what you need more easily. Try labelling tools or drawing around them in black marker on the wall so you'll know when one hasn't been put away.'
What should every shed have?
Every shed should have space for tools and garden equipment, as that's what it is intended for! If you find you're storing things like kids toys or garden furniture, leaving no room for anything else, you might need to invest in some additional storage.
'Don't forget some lighting too, even a couple of battery-powered push lights will help you find what you need,' advises Vicky.