With a sudden frost forecast, now is the time to brave the cold and protect your plants from frost in the coming cold snap. While it might seem a lot of effort for a night or two of freezing temperatures, it's well worth the effort if you want to make the most of your garden ideas and enjoy an outdoor space full of green and healthy plants during the spring and summer.
'Be aware of spring frosts,' warns Kate Turner, gardening expert at Miracle-Gro (opens in new tab). 'Frost is caused by cold, clear, still nights when the air drops below freezing. 
'You can get a ground frost that affects lawns and roots, and an air frost that affects stems, leaves, flowers and fruit. Water in the plant's cells freeze, expand, then burst, leaving the plant unable to take up water and nutrients.' This can be a particular problem in a north-facing garden, which will feel colder and get less sun.
How to protect plants from frost
We asked gardening experts for quick and easy tips to protect your plants from a sudden frost, so let's wrap up and get outside…
1. Wrap plants in fleece to protect from frost
'Larger, more tender plants may need fleecing to help protect them from the cold and frost, especially if there is a forecast drop in temperature,' says Andrew Lawson, head gardener at the world-famous Tresco Abbey Garden (opens in new tab). 
'Fleecing is a thin, nonwoven fabric which is used to protect both late and early crops and delicate plants from cold weather and frost. It's very easy to use: simply wrap your plant with it (make sure it's not too tight), or put it on top of your patch, whiles making sure it's nice and secure with pegs or string.' 
There are lots of horticultural fleece brands available, but the SA Products garden fleece at Amazon (opens in new tab) is highly rated.
Andrew Lawson joined Tresco's world-famous Abbey Garden in 1985 as a Propagator, and was made Head Gardener in 1995. He has vast experience within the horticulture industry, constantly researching and finding new exotic plants from across the globe while also maintaining the gardens for visitors.
2. Bring pots inside to protect them from cold
Container plants have the advantage that you can move them inside if a frost warning has been issued, as long as the pots aren't too heavy to lift. 'Potted plants can be moved into a shed or garage overnight to protect them from frost,' says Nick Hamilton, head gardener at Barnsdale Gardens (opens in new tab).
If you're fortunate enough to have greenhouse ideas or similar, then move outdoor pots there until the cold snap has passed. 'If you have plants in pots outside, now is the time to think of moving them into a well-lit position in a conservatory or cold glasshouse to keep them fairly dry as cold and wet together is usually more damaging,' explains Andrew Lawson from Tresco's Abbey Garden.
3. Wind bubble wrap around your pots
Insulate pots to protect the soil and roots of the plants from freezing in frosty weather. Wrapping pots will also help to prevent containers from cracking as they freeze and thaw in cold weather, so this is a good tip if your patio ideas feature lots of colourful containers that you don't want to split in the frost.
 'Wrap pots in bubble wrap to help keep heat in over the colder months,' explains Kate Turner, gardening guru at Miracle-Gro. 'For even more protection, group containers together and near a wall or under trees and shrubs.' Huddling the containers together can help to protect them when there's a big freeze from sudden frosts.
4. Cover plants in soil or bark
This is the fast fix, temporary solution proposed by Nick Hamilton from Barnsdale Gardens when frost is coming and there's no time to buy horticultural fleece before it strikes. 
This works for more tender perennials that are planted in the ground, so can't be moved – so be sure to use it for your flowerbeds and garden border ideas. 'Mound some bark or soil temporarily over the crown of the plant to protect it – if you don't have either, then newspaper would do,' Nick says.
The son of renowned gardener Geoff Hamilton, Nick is a respected horticultural expert in his own right. After Geoff passed away, Nick took over ownership of Barnsdale Gardens, which his father established in 1989. These idea-filled gardens continue to provide inspiration for home gardeners today. 
5. Pack your trees with straw
Like putting on a puffa jacket to keep you warm on a cold day, this could be the ultimate frost protection for your plants. But as it's not the speediest fix, you may want to try it when the weather forecast is predicting a prolonged cold snap, or at the start of the winter (think of it as your trees' winter wardrobe).
'You can protect your trees and shrubs from frost by packing the branches with straw or bracken, and securing this with fleece and ties,' says Kate Turner at Miracle-Gro. 'At the same time, check your tree ties and stakes and replace, tighten or remove as necessary, ready for any stormy weather.'
6. Mulch your borders
We know that mulching borders can help to prevent weeds but it's also great for protecting plants during a cold snap – essentially, you're laying a 'duvet' of mulch to keep your flowerbeds warm. 'To protect soil and plant roots from freezing and help retain moisture, mulch plants in thick borders with Miracle-Gro Fibresmart mulch (opens in new tab),' suggests Kate Turner.
7. Water plants before the frost arrives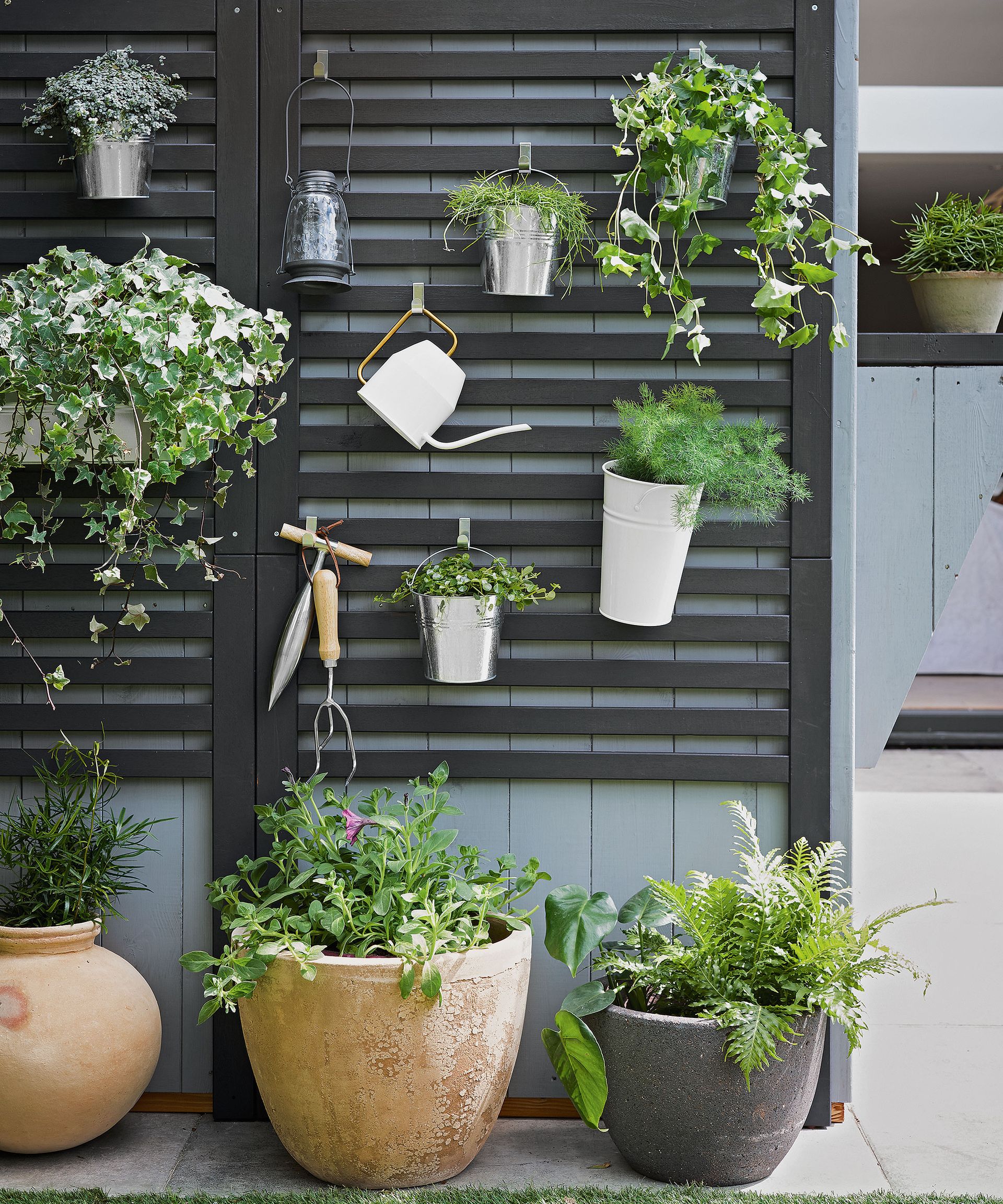 It may seem counterintuitive – after all, frost is just frozen water, right? – but the experts say to water your plants before any sudden frost.
'This will ensure they have received essential nutrients and are standing strong when the frost arrives,' explains William Mitchell, owner of Sutton Manor Nursery (opens in new tab). Watering ensures your plants don't get dehydrated as they can't absorb frozen water. 'Also, the moist ground will also stay warmer than it would if the soil was dry,' says William. 'But note that watering plants isn't necessary if it is going to rain before the frost comes, or if temperatures are already freezing.'
How can frost damage my plants?
Frost affects plants in two main ways. The first is that the freezing temperatures cause the plant cells to freeze. When the weather warms up again, the cells can burst as they thaw, causing damage to the plant.
Surprisingly, lack of water and dehydration is another problem caused by frost.
'When soil or compost freezes for any length of time, roots are unable to take up water and the whole plant will show signs of drought and may eventually die,' explains gardening expert, Kate Turner. 'Short-term frost damage can often be reparable but rapid thawing can be fatal, as can long-term extreme frost.'
How do I know if frost has damaged my plants?
'Black scorching and brown patches on leaves are telltale signs of frost damage,' advises Kate Turner. 'You might see wilting and shrivelling leaves turning black and the stem of the plant tipping over. You'll also notice your plants being pushed up from the soil in the ground.'