Transforming their garden into a lush Mediterranean oasis proved to be an exciting project for the owners of this Victorian terraced house in southwest London. 
Not having an overly large outdoor space to begin with, they needed some small garden ideas to create that much-needed 'extra room' that they could utilise as a family as often as possible.
Lush Mediterranean oasis garden makeover
They had originally redesigned the garden in 2006 when their two children were a lot younger, with the help of Edward Davies Design (opens in new tab) But now the kids were teenagers, the owners longed for a new look, and to use the space in a different way. 
So in 2018, they got back in touch with Edward. With its southwest aspect, the plot enjoys good sunlight in the summer. However, they wanted to brighten it up because the fencing, brick walls and garden decking ideas made it feel too dark.   
Work started in May 2019 and finished in September that year. Edward used Italian porcelain terracing and planting to create zones for dining and relaxing, including a bench in iroko wood to ensure each area could be used by everyone.
The focal point is the unit at the end of the garden, painted a deep blue, which incorporates a gas fireplace and shed. The outdoor fireplace unit is offset by striking brass panelling features a niche for a sculpture that was a wedding anniversary present. It draws the eye and creates the holiday setting that the family were after.
Originally there were five olive trees, but the owners wanted more plants, mostly silver-green foliage interspersed with white and purple flowers so that it didn't look too busy.
Emanuela Alladio of Alladio Sims Garden Landscape Design (opens in new tab) removed an olive tree to create more space and light and selected a mixture of evergreen and deciduous plants for a succession of interest. They now use all of the space now, entertaining and enjoying it as a family.
The bench gets the sun in the morning so they can sit there with a paper and coffee and they even celebrated New Year outdoors, huddled under blankets around the fireplace.
Adding a touch of tonal colour in the garden, the Liriope muscari 'Royal Purple' copes easily with the shady areas under the olive trees.
The new outdoor space has a variety of flexible areas that the family can all enjoy, while the compact garden shed idea is the perfect space to stash any garden clutter. The lightweight Fermob (opens in new tab) dining furniture is made of all-weather, powder-coated aluminium and can be easily moved around the garden and closer to the fire on cooler evenings.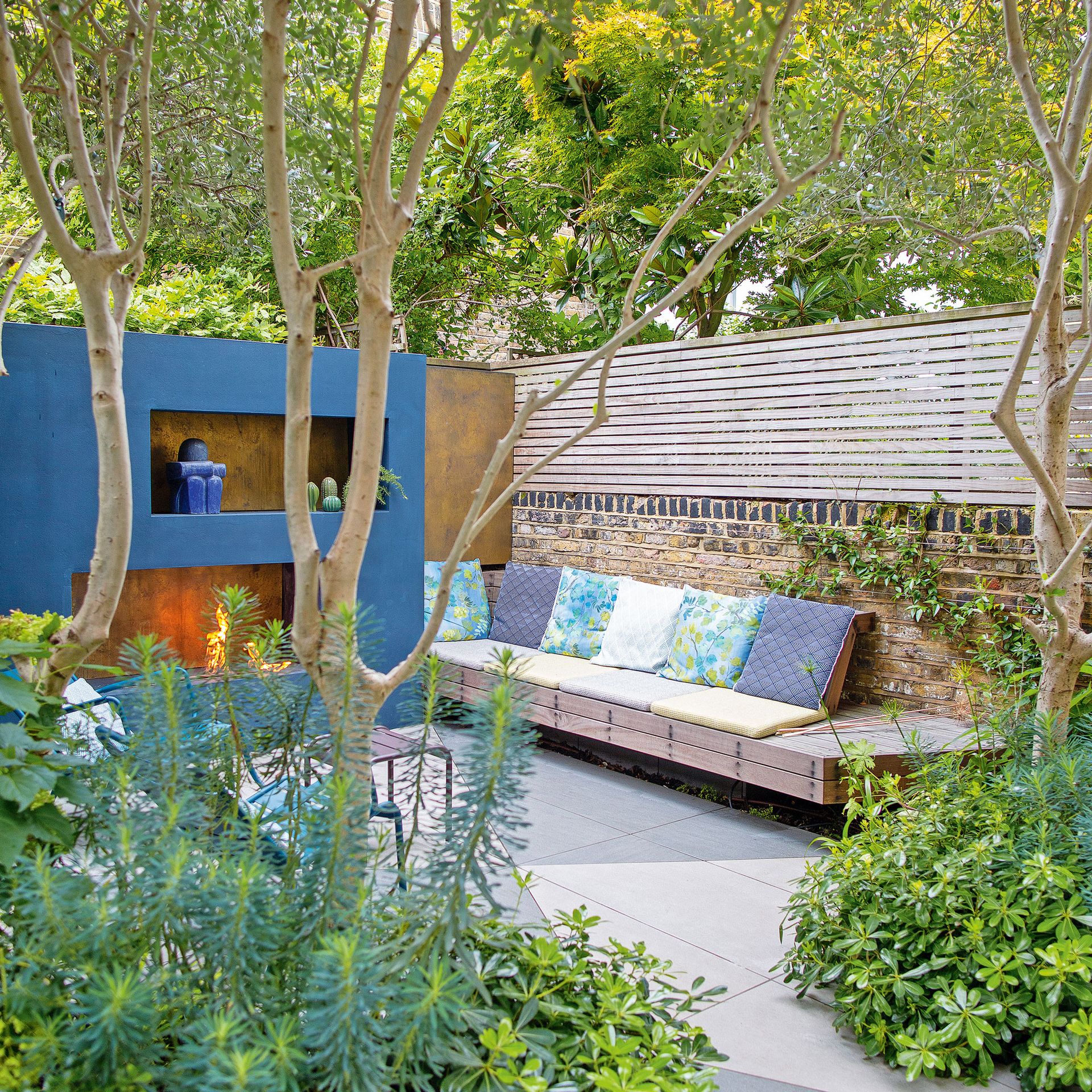 The bespoke bench sits in a spot that catches the morning sun. The owners chose the blue colour scheme to reflect the interior of their home. Both the shed and fireplace unit are painted in Hague Blue exterior eggshell by Farrow & Ball (opens in new tab).
One of the original olive trees was removed to allow in more light, with the remaining trees underplanted with drought-tolerant varieties, such as euphorbia.
Olea europaea (olive tree) is a slow-growing evergreen of Mediterranean origin. It has small, silver-grey leaves and tolerates hot and dry conditions. It produces tiny, creamy-white flowers in the summer followed by small, green olives ripening to black. 
Semi-hardy, they need a sunny, sheltered, south or west-facing spot to thrive, and in colder areas will need to be grown in pots and overwintered in a cool greenhouse idea. They can reach 10m in height and spread.
Contained in in heavy oversized planters, the Pinus Mugo 'Pumilio' is a slow-growing, hardy, compact, mound-forming conifer with dark green needles, and producing greeny-brown cones in late summer to autumn.
 It can reach 1m in height and spread but can take 20-50 years to reach full height. It likes full sun or partial shade and any aspect apart from north-facing garden ideas. It is not fussy about soil pH as long as it is well-drained.
Planted underneath two of the remaining olive trees is Euphorbia characias subsp. wulfenii (Mediterranean spurge).  An erect, sparsely-branched medium-sized, sub-shrub with oblong, grey-green leaves and large, rounded heads of greenish-yellow flowers. 
It can grow up to 1.5m in height and spread in 2-5 years, and enjoys a sunny, sheltered location in a garden of any aspect apart from north-facing. It's not fussy about soil pH as long as it is well-drained, and is hardy in an average winter (-10 to -5C).
Additional words by Sharon Smith