Your front garden is one of the first things people will see when they look at your home, so it's important to make a good impression. Any front garden, small, big and everything in between can be stylish and practical with careful planning that ensures you avoid front garden mistakes. If you don't get to plan your garden from scratch, there will likely be elements of your front garden that don't quite work and need tweaking. 
Experts have told us the top front garden mistakes that will stop your garden ideas from looking its best. However, even if you are guilty of these mistakes, this is an opportunity to transform your garden into a beautiful space you love that works all year round. 
Yvonne Keal, senior product manager at Hillarys (opens in new tab) says, 'Although your home may be amazing internally, a common mistake people make is not spending time or effort on its external appearance including the front garden. If you don't take care of your front garden it could become overgrown or barren, which may put visitors off.  
'Spend 30 minutes tidying your front garden or display a new welcome mat and you'll be surprised at how inviting it will make your home. Another way to enhance your front garden is to go bold and paint your front door a bright colour. It's the perfect way to make a statement and can totally transform your home's curb appeal.'
Front garden mistakes to avoid 
'Your front garden is the first part of your home that people see, so designing and maintaining it is a great way to add value to your home,' says Johanna Elvidge, head of domestic design at Marshalls (opens in new tab). 
For your front garden ideas instead of having tired fencing or unsightly brick walls, take the opportunity to replace them with a natural border which is much more visually appealing. Choose landscaping materials and plants that complement the exterior of your home and will set the tone for your interior style. 
1. Your front door looks tired
Your front door sets the tone for the rest of your home and garden so it's important to get it right. A good sturdy front door should last you a lifetime and can be created from uPVC, composite or timber. Use the front door as a chance to tease and give a small insight into your personality and style within the home. If you're looking for budget garden ideas, instead of replacing the entire door spruce up your existing door. Signs that your front door needs attention include drafts, leaks, sagging and flaking paint. 
Simply re-painting your front door can give it a new lease of life. Strip any faded, flaking paint with a paint stripper specific to your finish and clean away any dirt and grime. Replace any loose hinges or cracked panels and treat areas of rotten wood. When choosing a new paint colour don't be afraid to go bold and choose a weather-resistant paint. Apply a protective UV coating over your paint to help reduce bleaching, heat retention and swelling. 
2. Not keeping the edge of your lawn tidy
Your front garden ideas will look much more polished if you keep your lawn edges as neat as possible. A front garden mistake that can make your garden look unfinished is mowing your grass but not finishing off your edges. Lawn edging gives the grass areas in your garden distinct and clear-cut lines and instantly makes it look sleek and tidy. Edging the lawn of your front garden can be as simple as trimming the grass where it meets a patio, path, or non-lawn features within your garden. 
For a more elaborate design, your garden edging ideas can involve physical edging such as stone or metal borders for an even cleaner definition. The best time of year to cut the edges of your lawn is spring. This is because the grass is growing at a good speed and the soil isn't too hard from the cold or dried out from the summer sun. The best tool to give your lawn a sharp edge is a half-moon edger to re-cut the edges and long-handled edging shears to trim the edges. 
3. The weeds have taken over your garden
Weeds are pesky intruders that no one wants or asks for but they plague all types of gardens. They can be found within your lawn, your patio and even your decking and can grow all over your garden. Not keeping your weeds under control is a front garden mistake that can easily be fixed with chemical-free weed killers. 
Letting weeds run wild can spoil the look of your front garden, take nutrients from the soil and even tear through structural foundations in the case of Japanese knotweed. A good way to stay on top of your weeding is to set aside time specifically for tackling them when you do any gardening. 
Some of the best ways to keep weeds at bay include digging them up with a garden fork or hand trowel. Or add biodegradable mulch to the top of your soil such as garden compost, leaf mould and wood chippings to suppress weeds and help your plants grow. 
For an easy, cheap option, use boiling water at the base of the plants to shock and kills the weed plus any seeds dormant in the soil. This method is especially good for paths, patios and driveways which are often found in front gardens. Vinegar is another useful tool for killing weeds due to the acetic acid in the vinegar effectively killing weeds. However, be careful to only use this on the weeds because vinegar will destroy all plants so needs to be used selectively. 
4. There are no outdoor lights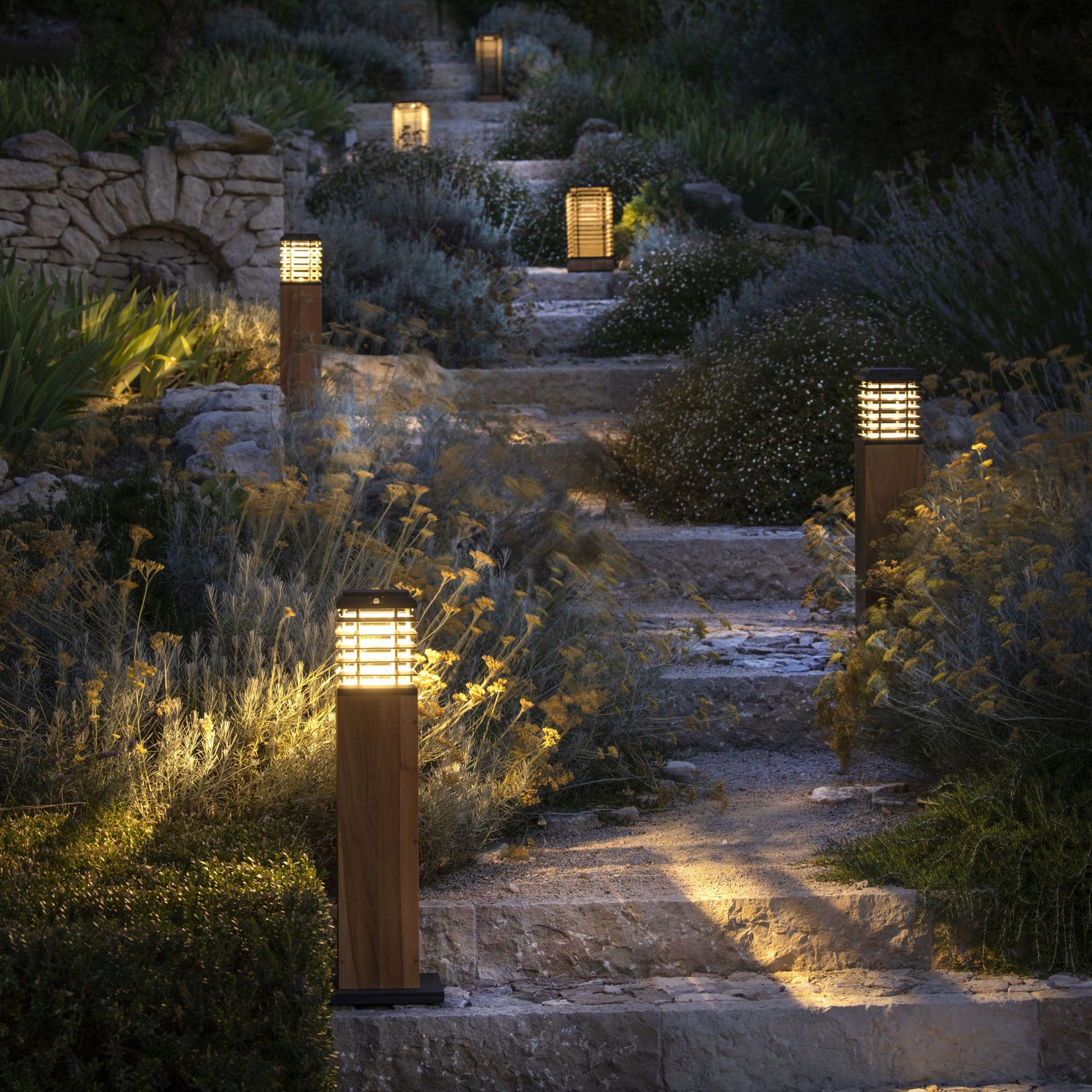 Your front garden should look welcoming and still be a focal point even at night, which is when garden lighting becomes essential. Lighting in your front garden not only looks good but acts as a form of security and is especially good for any blind spots you may have. 
'Fairy and decorative lights aren't just for Christmas and can be used all year round wrapped around tree trunks, structural plants or hedges to add a magical glow to the front of your home. Lanterns or solar light stakes can be strategically placed around flower beds or on steps and pathways to create visual interest. 
'Stunning silhouettes can be achieved with ground-level lighting along driveways and pathways or under large trees. For a simple, more understated look, hang wall lights or sconces near your front door or garage to provide the right amount of light for these areas for access at night,' advises Deborah Cobb, landscaping product manager at MKM (opens in new tab).
5. Having too many high-maintenance plants
Maintaining a garden takes time and that is not always easy to find. Having too many high-maintenance plants is a front garden mistake that will require you to constantly be out in the garden pruning and caring for your plants to keep them looking good. Planting low-maintenance plants will give you a stunning and easy-to-care-for outdoor space which even the least green-fingered person can handle. 
'Choose plants that don't require very much care and can thrive in all seasons. Plants such as lavender, ferns and hydrangeas are a great low-maintenance choice,' says experts at Garden Street (opens in new tab). 
For a hardworking shrub that will attract hummingbirds and bees, the weigela is the perfect option, giving you colourful foliage and tubular blooms. A black-eyed Susan is a low-maintenance perennial with golden yellow daisies and can handle full sun and partial shade.
6. Not having plants that give all year-round interest
Your front garden shouldn't just look good in the summer, but be a green sanctuary all year round. Planting a mix of evergreens and perennials will keep your garden looking green in the winter and bring back your favourites each year. 
'If your front garden dazzles in the summer but looks dead in the winter, make sure you're planting flowers and plants that bloom all year long to prevent this. Evergreen trees and shrubbery are a great addition to make your front garden look green and bright all year round,' says Rian Habergham, garden expert at Leisure Bench (opens in new tab). 
For your garden border ideas, mother of thyme is a perennial which is perfect for low-growing ground cover and will give you a lovely scent and delicate pink flowers. The bell-shaped foxglove comes in a variety of bright colours such as purple, yellow and red. The Portuguese laurel is an evergreen shrub with maroon coloured stems contrasted against strong green leaves while being very hardy and easy to care for.  
7. Choose plants and shrubs that require little pruning
'If you don't like gardening, fill the front garden with shrubs and conifers which are either slow growing or will keep a compact shape without any pruning. Try Choisya, dwarf azaleas, dwarf conifers, grasses and hebes,' says Angela Slater, gardening expert at Hayes Garden World (opens in new tab). For some shrubs, pruning is actually detrimental to their health and will reduce the number of flowers you get returning each year. 
Rhododendrons naturally grow into a compact shape, have large glossy leaves and come in a variety of shapes and sizes to best suit your garden. Winter Daphne is another plant that thrives and flowers more the less that it is pruned and their pinkish white flowers appear in mid to late winter, providing a beautiful focal point in your garden. 
8. Not having a clear pathway to the door
A well-designed garden pathway leading to your front door is essential because it is the first step people will make to enter your home. It marks the transition from a shared street to a private personal space.
Rian Habergham from Leisure Bench says 'If there's no designated way to get to the front door, then chances are that visitors are going to walk over each and every part of the lawn. This can have a damaging effect on the health of your grass, as well as any other plants you have growing. Make sure that you have a pathway of some sort, whether that's a gravel pathway or concrete.'
What is a foolproof front garden idea that will always look good? 
For an easy garden idea that will keep your front garden looking good with minimal effort choose a paved or gravelled front garden instead of a lawn. 
'A simple front garden is always a foolproof front garden,' says Rian Habergham from Leisure Bench.
'Stick to the necessities and not only will your garden look neat and tidy, but it will be much easier to maintain, which is especially important if you're already spending a lot of time in your back garden. A simple garden could have: – a designated pathway leading to the front door, – a neat grassy lawn, – a working garden gate and fencing if suitable, – a flower bed or potted flowers. Overdoing your front garden can be a problem because it's hard to look after and keep tidy, so keeping it simple is a great solution to this problem.'
What can go wrong in a front garden? 
'A mistake to avoid in your front garden is not creating a clear path to the doorway. Visitors will take the shortest and quickest route to the door, so design a path that easily directs them to your house so they aren't taking shortcuts across flowerbeds and the lawn,' say experts at Garden Street. 
Be careful to not plant shrubs which grow too tall and restrict light from entering your house. Also don't plant trees too close to your house and drainage systems because the roots could find a small crack in a drain and cause it to expand causing major expensive damage.
Anna Hampshire, head of marketing at Marshalls advises planning out the layout of your front garden before carrying out any work. 
'Weather conditions in the UK are notoriously diverse, so your paved areas need to withstand whatever is thrown at them. Take the time to map out and plan your space, particularly patio areas. This includes calculating the gap in between slabs and ensuring the right jointing material is used. You should also make sure that you have adequate drainage for areas prone to flooding, which is particularly important if your garden is on a slope.'
What should you be doing in a front garden? 
Your front garden is no different to your back garden and the garden mistakes you want to avoid are the same. You should be doing things such as mowing the lawn during the periods of growth in the spring and summer. Remove any weeds, taking care of your flower beds and potted plants and trimming any climbing plants, large trees and bushes.
'Your front garden is the first part of your home that people see, so designing and maintaining it is a great way to add value to your home. Outdoor lighting is also a great way to add ambience to a garden – line the paths with low-level solar-powered lights or string outdoor fairy lights amongst the trees or trellises. 
'Speaking of paths, another great DIY solution to sprucing up your front garden is to add new edging to your pathway, freshening up the garden paving and creating a border between hard and soft landscaping,' says  Johanna Elvidge from Marshalls.
'Vertical gardens, which lift plants away from ground level to adorn walls and other vertical surfaces, are excellent for gardeners who have limited space. However, there's no reason why someone with a more substantial garden shouldn't borrow inspiration from the micro-gardeners to create a touch of magic. If you've got an area that's looking a little drab, like a boring wall or plain doorway, use anything that comes to hand and cover it in lush greenery and bright blooms.'